The ultimate E-bike buying guide
Taken the plunge and bought your first E-bike? Or are you one of the estimated 5% of Brits thinking of making the switch to an electric bicycle? If the idea of turning up to the office without an ounce of sweat hanging from your clothes appeals to you, but you don't know where to start, take a look at our beginner's guide to everything you need to know before venturing into the world of E-bikes.
What types of electric bike are there?
First of all, you'll have to decide what type of electric bike you're after. This will depend on what you're planning on using it for and essentially splits the E-bike genre into two; work or leisure. A standard road E-bike will conquer many an urban environment and get you into the office without a bead of sweat, but if slaloming around the trees in a forest trail is more your game then there's an extensive e-MTB catalogue to browse through.
What's the difference between an e-bike and an e-MTB?
There are a number of different sub-genres of both the road and mountain bike relating to the location of the all-important motor, which will further determine how these e-machines are best for you. For now though, let's concentrate on what these two have in common. Broadly speaking, the electric alternatives don't differ much from their road and terrain counterparts and as such, both E-bikes and E-MTB's share the same structure. The wheels, the pedals and the saddle are all where you'd expect them, but the size of the tyres and the weight of an E-bike is noticeable – the average electric road bike weighs upwards of 20kg.
When it comes to deciding which motor is a going to be right for you, there are a few recognisable brands out there such as Bosch, Yamaha and Shimano that are well represented in the E-bike market so you aren't heading into this completely blind. E-mountain bikes will usually be powered by a mid-drive motor which provides more torque and a bit more kick to power you up those hills. The most common configuration of the electric bike however, is the hub-motor. Where these are mounted on your E-bike will differ by brand and specification, but if a road E-bike is what you're tempted to buy, it's more likely you'll end up with a rear-wheel powered hub-motor.
What are the benefits of an electric bike?
Once you've settled on your choice of E-bike, what can you look forward to getting out of it? Just why is the electric bike market growing exponentially in the UK every year? The answer lies in what the E-bike can do for you.
We now know that these incredible bits of kit can help you climb even the most demanding of hills for longer than if you solely relied on good, old fashioned pedal power. But what about those of us who prefer life on solid ground? Can a battery powered bike really change our daily lives? The market data on E-bike ownership in the UK is hard to come by, but global figures suggest that a sizeable chunk of those on battery-powered bicycles are over 50. The ability to go further for longer makes the E-bikes a hit, but it's not just with the older generation that are drawn to the benefits of the electric bicycle.
Can electric bikes save you money in the long-run?
Studies show that by switching to E-bikes rather than relying on the car or public transport, commuters could potentially save almost £8,000 over a five-year span. This has not gone unnoticed as the average commuter in the UK is spending longer and longer getting to work – for Londoners it's over an hour – which leads to increased tiredness as well as an empty pocket. It seems that more and more Brits are adopting the E-bike as their transport of choice thanks to ingenious schemes such as the Green Commute Initiative, which reduces the pricey outlay for an e-machine via salary sacrifice. Now, more people are sailing to work without staining their clothes with sweat and the best part is they're still getting their daily exercise!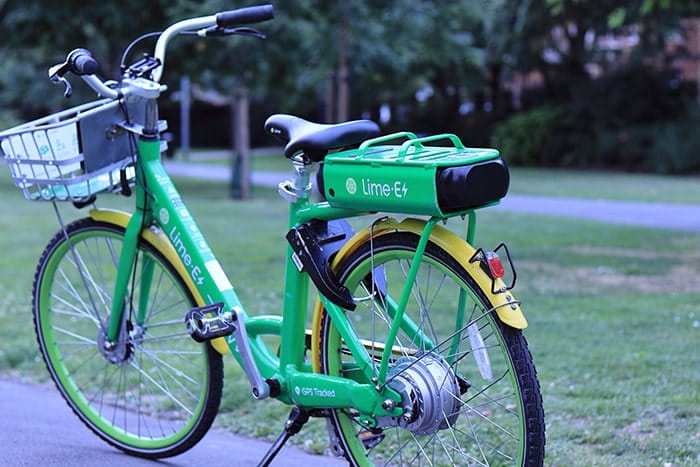 Electric bikes are an accessible way to easily zip around cities / Image: Dele Oke, Unsplash.
Can I get insurance for an E-bike?
If you're putting some serious thought into getting yourself an E-bike then you may want to consider getting your newest set of wheels insured. At cycleGuard, we offer specialist insurance for electric bikes.
Home insurance and E-bikes
Whether you want to use your bike for climbing steep mountain trails or for your morning commute, electric bikes are still quite expensive to buy and can be costly to repair. If you've got contents insurance for your belongings, then you may find that your cover limit is too low to insure what are still quite pricey machines.
Our insurance for E-bikes
Our cover includes protection against accidental damage and theft as standard in order to keep your E-bike protected. By extending your cover with us today, you can even protect yourself from personal injury while you're out on your bike. We can provide up to £25,000 to cover injuries suffered as a result of a cycling accident or incidents of road-rage. Take a look at the policies we provide for E-bike owners right here and get a quote from us today.
How long does an E-bike battery last?
Of course, you won't be getting anywhere if your batteries are on the blink. How long your battery is going to sustain you for depends on a number of different circumstances: namely, how much you're planning on putting your E-bike through, how often are you going to ride it and also the weight of your machine.
Modern day electric bicycles tend to be fitted with the lightweight, but powerful lithium-ion batteries. You'll find these in your laptop or smartphone and can reach around 1,000 charge cycles before their effectiveness starts to drain.
For the mountain bikers among you, any weight you carry in the form of backpacks and the increased strain of zipping through woodland trails is going to drain the battery much quicker than the 9-5 commuter. On average, an E-bike battery should last for around 40 miles, but this depends on how you ride and how you keep your E-bike battery maintained. We recommend keeping your battery in a cool place to preserve it, and keeping a fully-charged battery with you at all times in our list of essential E-bike kit.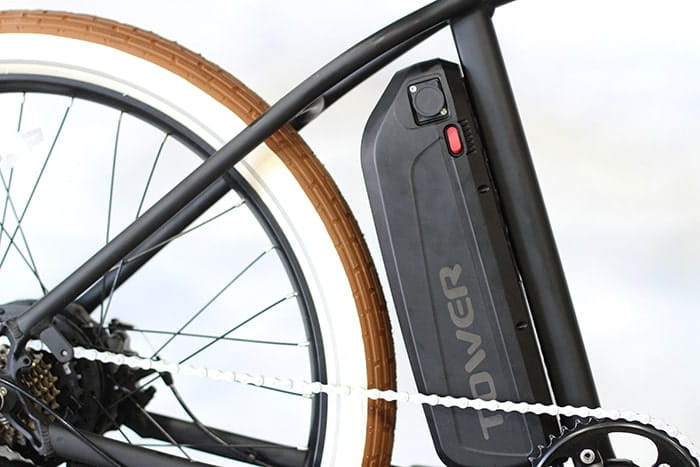 How long your e-bike battery lasts for depends on a number of factors / Image: Tower Electric Bikes, Unsplash.
Are E-bikes larger than normal bikes?
Finally, you'll want to get the right electric bike to fit you. Truth be told, there's not a lot in the science of size measurements that differs from that of an analogue bicycle, but with E-bikes being as expensive as they are, you'll want to be doubly sure and not base your estimations from what you already have in the shed.
As a rule of thumb, you should measure your inside leg in both inches and centimetres and also your height. Each manufacturer will have their own guide about which frame size corresponds to your height, so use this as a guideline but if you can, physically compare for yourself at a local E-bike retailer.
The rise and rise in E-bike popularity is leading to more inclusion and speciality, so female tailored electric bicycles are much more common than they were during the formative years of the e-revolution and the minor differences may be reflected in sizing. A unique form of E-bike on the market is the folding bike with a 'step-through' frame. These distinctive pieces of kit tend to come in one-size only and are usually quite low down. The seats of which can be adjusted to fit taller riders and the smaller wheels can be easier to steer, but won't absorb the effects of hitting a pothole as smoothly as a larger bike will.

TAGS
Electric
Leisure
Mountain