Will the UK see a boom in commuter cycling?
It's time to limber up and re-adjust that saddle, because Cycle to Work Day returns on 5th August! Whether you're a regular bike commuter or someone who's going to leave the car keys at home for the day, now's the time to inject a little fun into the middle of your working week.
How do we get the nation back on the bike?
As one of the UK's leading bike insurance specialists, cycleGuard have been protecting cyclists up and down the country for over 20 years. Our specialist protection for commuter cyclists includes cover for theft and accidental damage as standard, optional Personal Injury insurance and more.
Government data has shown that fewer and fewer people have been hopping on the bike to get to work. In fact, 2019 saw the lowest number of cyclists biking to work in six years, with only 4% of workers in England opting for pedal power over the car or bus.
However, a recent survey has claimed that we could be about to see an uphill climb in the number of cyclists taking the bike to work. According to a poll undertaken by Shand Cycles, as many as 5 million commuters could soon be swapping four wheels for two.
This, of course, is no coincidence. In May last year, Transport Secretary Grant Shapps announced a £2 billion investment into the UK's cycling infrastructure, including wider pavements, safer junctions and new cycle-only networks in order to keep the country cycling.
Is it safe to commute by bike?
So, if the government is pushing for more and more of us to take the bike to work, just why has the amount of commuter cyclists hit the skids? The answer could lie in how cyclists feel when they're on the road.
Government figures suggest that the number of cyclists who felt that cycling on the UK's roads was too dangerous has risen sharply in the last few years. In fact, more than half of bike users – 57% - felt that it was too dangerous to hop onto the bike.
The push to incorporate a more European attitude to commuting by bike could pave the way for cyclists to feel much safer in the saddle.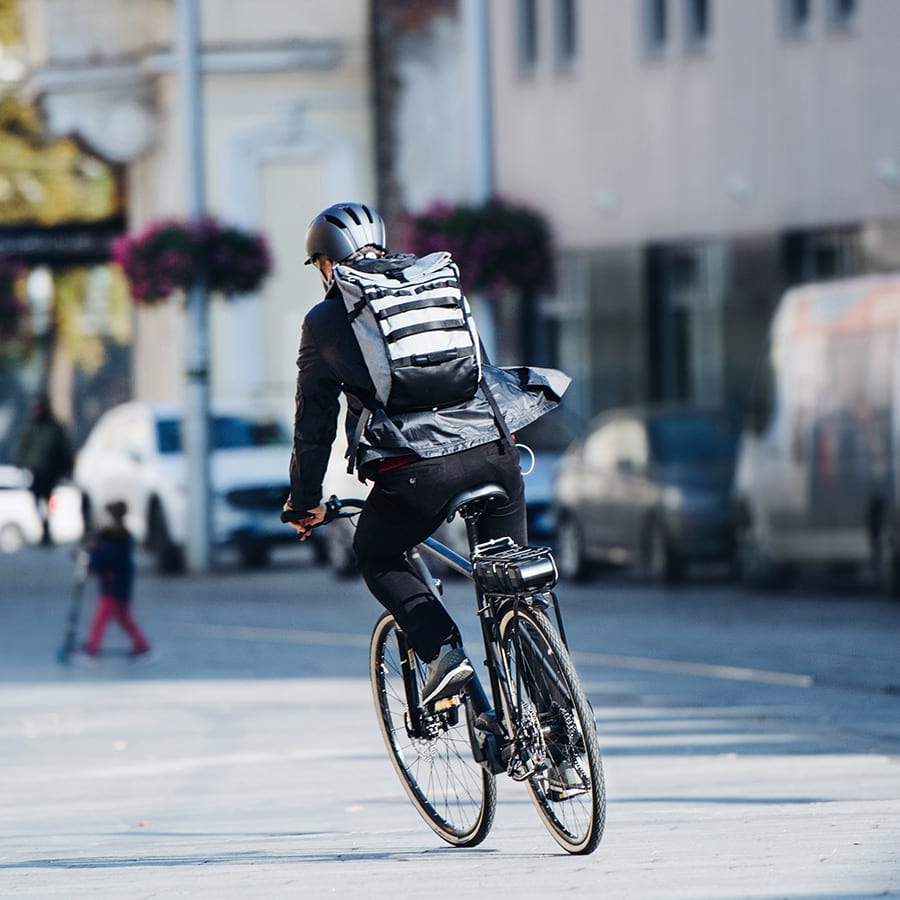 What are the benefits of cycling to work?
Cycling to work has a number of benefits that will help make your day run smoothly. Taking the bike to work not only improves your fitness, but it can also help make you more productive and ease the strain on public transport in the time of COVID-19. Here are five of the best benefits to hopping on the bike!
Helps avoid public transport
Taking the bike to work instead of trains or buses can help minimise the amount of contact you have with others and helps to prevent the spread of COVID-19. While the requirement to wear face coverings on public transport has been lifted, the government still recommend avoiding crowded buses and trains where possible. Getting out on the bike in the fresh air will do just that!
Keeps you in shape
Cycling is also a great all-round exercise. Getting from A to B on your bike is an aerobic workout, which means that your heart, lungs and all of the blood vessels around your body benefit. Even a relatively short bike ride is great for your fitness levels! A 30-minute bike ride could burn between 200 and 500 calories.
Boosts your immune system
Cycling can also provide your immune system with a helpful boost. On average, bike commuters take one sick day less a year compared to their non-biking counterparts. So, not only can cycling keep you fit and healthy, but it can also help you fight off those nasty bugs and colds!
Improves your sleep
What's better than a good night's sleep? If you ever have trouble drifting off, then cycling could be the answer. A 2015 study found that those with higher levels of cardiorespiratory fitness also had better sleep quality. Regular exercise, including bike riding, can help improve your fitness levels and lower anxiety – resulting in better sleep!
Makes you better at work
Not only will riding your bike make you feel fitter and healthier, but it may even make you more productive when you get to work. A 2013 study found that 30 minutes of aerobic exercise such as cycling can boost your memory and planning. So not only are you going to feel the benefits of biking to work, but your colleagues will too!

TAGS
Leisure
Commuter
Road
Health