Everything you need to know about bikepacking!
What is bikepacking? And how do you start getting into it?
Bikepacking is a combination of touring by bicycle and backpacking. Bikepackers usually ride off-road and camp overnight, with everything they need for the trip lightly loaded onto their two-wheel transport.
What you take on a bikepacking expedition and how you fit it all onto your bike is key to making your trip a success. You will need the essentials for any travel off the beaten path while making sure that you do not overload the cycle to make the whole experience of venturing into the great doors an enjoyable one.
What bike do I need for bikepacking?
Bikepacking is all about easy, lightweight travel. Chances are you already own a bike, but if you are looking to buy a bicycle for venturing into the wild, choose a lightweight frame, wide tyres and a bike that has plenty of mounting points for your kit.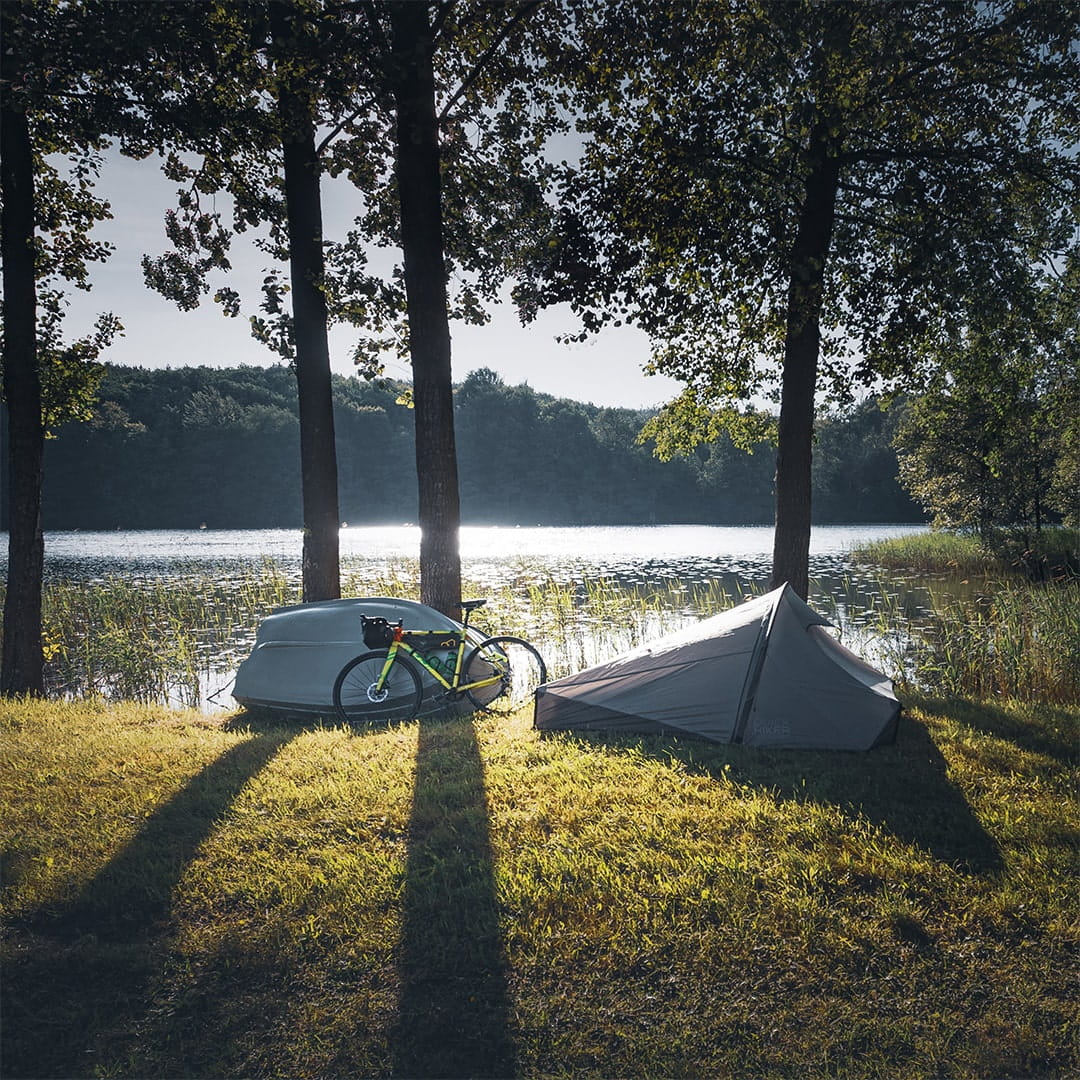 Bikepacking combines the fun of a backpacking holiday with the adventure of a cycling break.
The essentials for a bikepacking trip
Investing in quality gear can make any bikepacking venture more enjoyable. You don't need to break the bank, though, as long as you have the essentials to get going, such as:
Bikepacking bags
A good bikepacking bag is soft, lightweight and fits onto the bike frame. There are many different types and sizes of bikepacking bags to choose from.
A handlebar roll is the best way to carry bulky items such as sleeping bags and layers for keeping warm. You can also get hooped handlebar bags for additional pieces of kit. The lighter you pack your handlebar bag, the easier your bike will be to handle.
A seat pack is another piece of storage kit you should consider that fits securely beneath the saddle. Bikepackers often store clothes and food in their seat pack. Seat packs vary greatly in design and capacity, but it's a good idea to choose a dry bag to keep your luggage watertight.
You'll also want to consider a frame pack. This will usually be where you'll stow heavier items, as the frame pack has a low centre of gravity and won't affect the handling of your bike too much.
A bikepacking tent
Any bikepacking trip in the UK will require a tent, even if the weather forecast is predicting days of warm weather for the duration of your expedition.
As you're carrying the tent on a bike, it's inevitable you'll be compromising on size and coverage, but after a long day of cycling, you'll want some semblance of comfort for a good night's sleep. A down sleeping bag is a warm option if you're out in colder weather and are also very compressible. However, synthetic sleeping bags have the advantage of being cheaper and quicker to dry out should they get wet. They're also easier to wash down.
What else do I need to go bikepacking?
Now you've got the mode of transport (your bike), your shelter (tent), sleeping arrangements and the bags to pack everything in, you'll need to set yourself up with a checklist for everything else you'll need. Before you head off for your first bikepacking trip, make sure that you've packed the right equipment:
Cooking equipment
Water storage
Repair kit
First aid kit
Torch
Don't forget your phone as you'll inevitably need to contact the outside world at some point, especially if you have an emergency. It's also a good idea to carry a spare battery for any GPS systems and other technology.
At cycleGuard, we offer 24/7 breakdown cover to get you home if you suffer a breakdown on your bike, as long as you're more than a quarter of a mile from your insured location. So if something goes wrong while you're out bikepacking, we can make sure that you get back home safely. You can find out more about our Cycle Rescue cover here.
Above all, pack the essentials that will make your trip an unforgettable one. Bikepacking is an adventure, so make the most of it!