What are some of the best virtual cycling apps?
We've got five of the best virtual cycling apps and websites to keep you busy!
Training for a big cycling event can become quite time consuming. If you already have a heavy workload and a family, it can be difficult to find the time you need in order to train effectively. Of course, there's nothing quite like going for a bike ride and exploring the great outdoors. However, if you're getting home late from work, or, you want to spend some quality time with the kids, virtual cycling apps and websites are a great alternative.
Training at home is a great option for those of us stuck inside at the moment. For the most effective exercise regime, you can combine both indoor and outdoor cycling, just like the pro's do. Blast out the tunes, hop on your exercise bike, and pedal away. Of course, seeing as you're training indoors, you may require a little more motivation. Virtual cycling apps and websites are a fantastic way to boost that motivation. You won't need to worry about other road users and can easily track your progress along the way. With so many cycling apps to choose from, we've rounded up some of the best options to suit all abilities and interests.
Fulgaz
With over 1500 different routes to choose from, Fulgaz is a brilliant indoor cycling app. Available on Windows, iOS, Android, and Apple TV, you will never become bored with this high definition app. Using real-life routes, this app takes you on a journey around the world from the comfort of your own home. Avid cycling enthusiasts will spot some famous racing routes as you pedal your way through 5000 miles of options. Using actual footage, this is arguably the closest you will get to the real thing. Currently, Fulgaz offers a 14-day free trial followed by a monthly payment..
Zwift
Arguably the most popular virtual cycling app out there, Zwift does certainly not disappoint. An exciting feature of this app and website is that it enables you to join virtual group rides. Join a team and measure yourself against other cyclists. This is a great way to set your desired pace and see where you can improve. Meet fellow cyclists and chat to them as you ride. This is also a great option if you are training as part of a team. Choose between a variety of routes and destinations including London, New York, and the Mayan jungle. Zwift also boasts its own road racing series where you can compete with others. There is a free seven-day trial followed by a monthly payment of £12.99.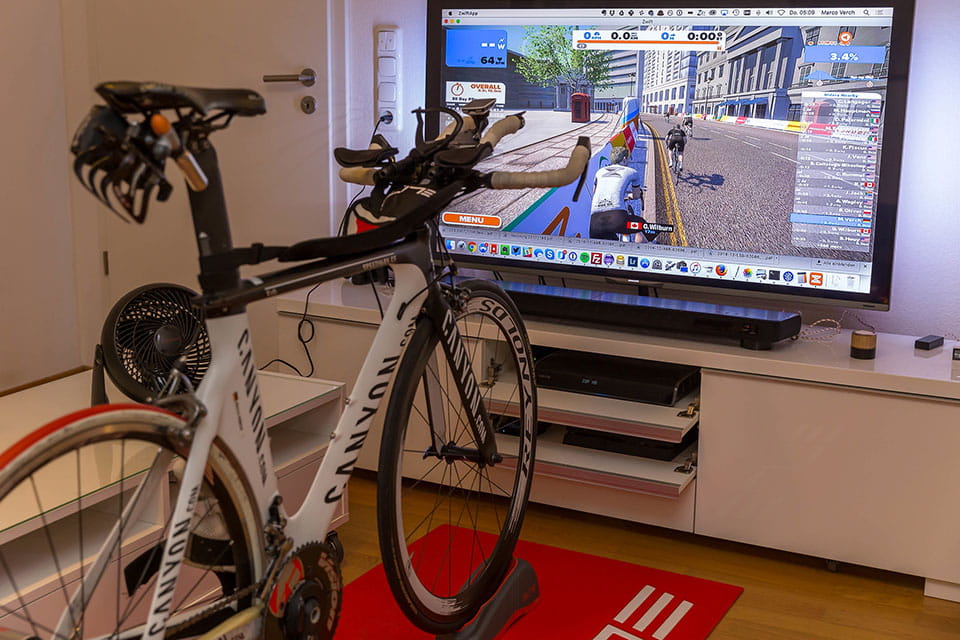 Zwift has taken pole position when it comes to indoor cycling apps / Image: Marco Verch, Flickr
BKool
If you are hoping to really challenge yourself, then why not try BKool? Available on iOS, Android, Windows, and Apple TV, this app offers an exciting range of group and individual rides. Track your personal goals as you choose a route, workout, velodrome, or FTP test option. To boost your motivation, there are also lots of group challenges and competitions.BKool offers a 30 day free trial followed by different pricing options.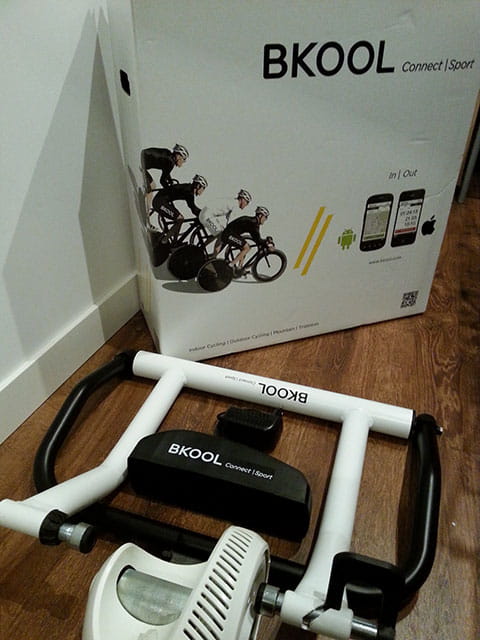 BKool really puts you through your paces / Image: Ignacio Gomez, Flickr
Rouvy
Rouvy is a fantastic visual experience. Using augmented reality, Rouvy puts virtual riders into real-time footage of over 4,000 route videos! Just like Bkool, you can even film and upload your own routes so that you can bring some of your favourite outdoor trails, indoors.
Not that you'd need to of course. Rouvy has race courses from Andorra to California, featuring plenty of well-known routes in the UK.
Trainer Road
Trainer Road is the indoor cycling app of choice for those who aren't interested in flashy graphics and want to stick to a strict training programme. Trainer Road helps compile bundles of scientific data with one goal in mind – to make you a faster cyclist. Take a look at their specialist workouts and watch your PB's tumble!