The 2020 cycling races and events cancelled due to coronavirus
The coronavirus pandemic has decimated the international racing calendar. Here are a full-list of major races and events across the UK and the rest of the world that have either been cancelled or postponed due to the outbreak of coronavirus:
Cancelled or postponed cycle races
7th March | Strade Bianche (cancelled)
7th March | Strade Bianche Donne – Women (cancelled)
8th – 14th March | Paris – Nice (final day cut short)
11th – 17th March | UCI Tirreno – Adriatico (cancelled)
13th – 15th March | Six-Day, Manchester (cancelled)
21st March | Milan – San Remo (cancelled)
21st – 22nd March | UCI Mountain Bike World Cup, Portugal (cancelled)
23rd – 29th March | Volta a Catalunya (cancelled)
27th March | E3 Binckbank Classic (cancelled)
29th March | Gent – Wevelgem (cancelled)
29th March | Gent – Wevelgem – Women (cancelled)
1st April | Across Flanders / Dwars door Vlaanderen (cancelled)
3rd – 5th April | Six-Day, Brisbane (cancelled)
30th April - 3rd May | Tour de Yorkshire (postponed)
9th May | Giro d'Italia (postponed)
17th May - 24th May | UCI Tour of Japan (cancelled)
8th – 13th June | Women's Tour (postponed)
27th June - 19th July | Tour de France (postponed)
The Monuments
The first Monument of the 2020 season, Milan – San Remo, has been cancelled. After being due to take place in March, it was called off as part of the Italian lockdown.
The Tour of Flanders, which is scheduled for April 5th, also looks under threat. Thomas van den Spiegel, Belgian sports minister described the cobbled classic as not "realistic". This could also threaten another of Belgium's cycling monuments, the Liege – Bastogne – Liege, which is pencilled in for April 26th.
Christian Prudhomme, head of ASO and director of Tour de France, has claimed that April's Paris – Roubaix is also "unlikely" to go ahead.
Will the Tour de France and Giro d'Italia be cancelled?
Tour de France
In April, the news that many cycling fans were expecting was formally announced. Following an address from President Macron, the Tour de France would be postponed until late August. The Tour is now scheduled to take place from the 29th August until 20th September and will still follow the same course route.
Previously, Tour Director, Christian Prudhomme appeared defiant that the race will still go ahead as planned. Speaking to France Televisions, Prudhomme said: "Only two World Wars have stopped the Tour de France."
Giro d'Italia
Race organisers have already postponed this year's Giro d'Italia. Due to start in Hungary, The Giro has been postponed after the government announced a state of emergency.
Reports have suggested that the Vuelta will be moved to September, with the Giro shortly afterwards in October, although neither has been officially confirmed yet.
RCS Sport 2020 #Giro d'Italia date postponed >>> https://t.co/oh3EiLkE2t | @rcssport posticipa la data del #Giro d'Italia 2020 >>> https://t.co/5PXcHbpXWd pic.twitter.com/G0Q0hhdOGo
— Giro d'Italia (@giroditalia) March 13, 2020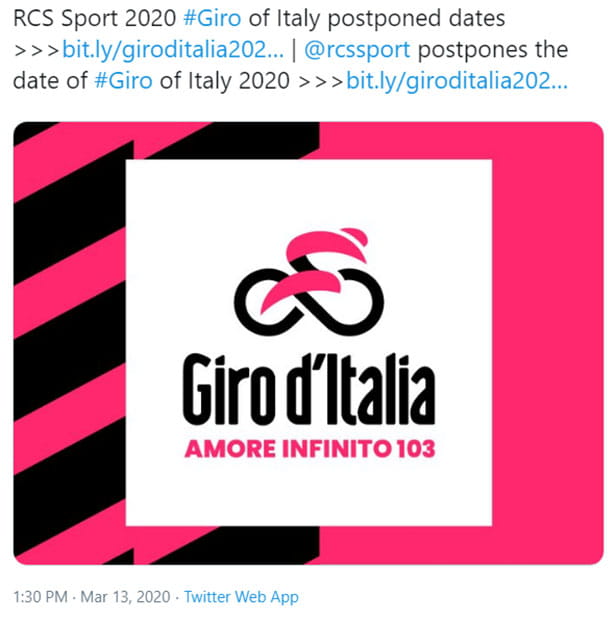 Giro d'Italia statement on Twitter - 13th March, 2020.
Will the Tour de Yorkshire be cancelled due to coronavirus?
The Tour de Yorkshire has now been postponed. The race was originally scheduled to take place at the beginning of May, but organisers have taken the decision to postpone the event. A new date is yet to be arranged.
You can keep up-to-date with government guidelines about what action to take surrounding the coronavirus outbreak and areas of large gatherings here.
Article last updated: April 15th, 2020.

TAGS
Road
Sport
Leisure
Health