6 ways to keep your mental health in check during lockdown
How can cycling and regular exercise help keep us feeling positive?
At this stage of lockdown, even the best of us are starting to feel a bit of cabin fever – especially if you're used to being out on the open road. For many seasoned cyclists, a quick whizz round the block doesn't really compare to really getting out there. This can be frustrating, but as we all know, staying home is crucial to fighting coronavirus and keeping our communities safe and well.
That said, you need to look after your mental health too. Being cooped up in the house all day isn't good for anyone and even more so if you lead an active lifestyle. However, there are steps you can take to keep yourself sane during lockdown while upping your cycling game. After all, physical fitness has a proven connection to mental well-being. A recent survey from BikeRadar in association with mental health charity, CALM, found that 87% of cyclists are using time out on the bike to boost their mental health. Here, we share some ideas for your lockdown cycling fix.

1) Get out on your bike
Remember, you can still go out every day to do some exercise. Although we shouldn't be straying far from our homes, there's nothing to stop you getting on your bike and out on the open road. Although the routes around your home might not be ideal – especially if you're a mountain biker – there are plenty of ways you can use the time to work on your condition. For instance, a bit of road biking is good for endurance. Time yourself every time you head out and give yourself a goal to focus on. Fewer things can be as motivating as pushing hard to beat your personal best.
2) Try indoor cycling
If you're in a position to make an investment, it might be the perfect time to get a turbo trainer. Turbo trainers are devices that enable you to ride your bike stationary. By clamping around the rear wheel and suspending it in an A-frame, a turbo trainer elevates your bike for indoor riding. As we've mentioned, all-day cycling excursions are off the menu, so turbo trainers are a great way to keep yourself in tip-top condition from the comfort of your own home. If you haven't already dipped your toe into the world of indoor cycling during lockdown, then take a look at our handy guide to get you started!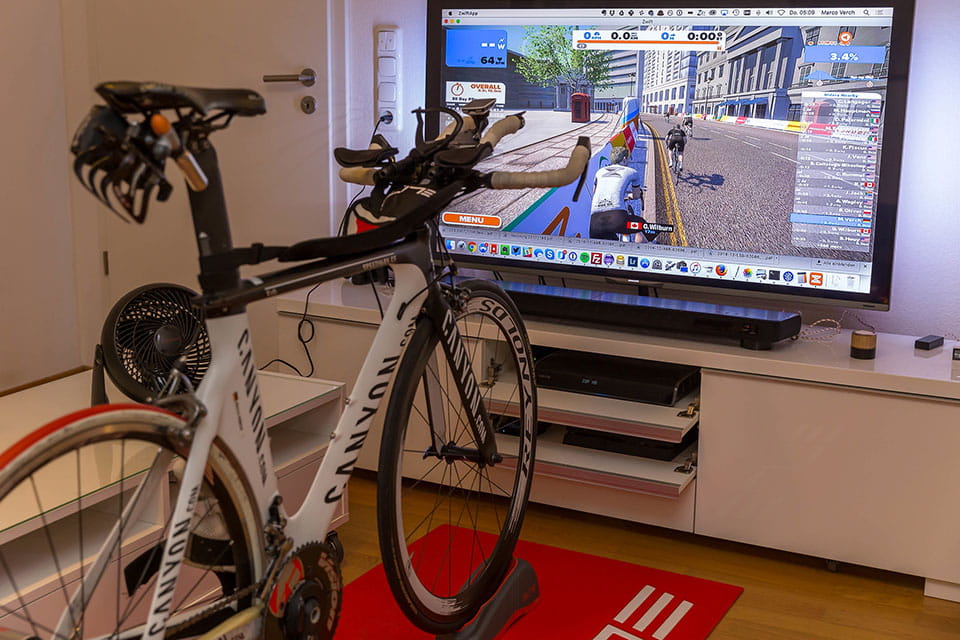 Cycling apps such as Zwift have been a welcome release for many cyclists / Image: Marco Verch, Unsplash.
3) Take a spin class
You could also look into buying a spin bike. This might seem like a big financial commitment under the circumstances, but in reality, it could be a great investment in the long term. As we know all too well, spinning is fantastic for conditioning, helping you take your fitness, strength and endurance to the next level.
4) Ride in the virtual world
If you decide to invest in a spin bike or turbo trainer, sure, you can go old school and just stare into the mid-distance during a gruelling workout. Or, you could enter the 21st century and hook up an app. One of the most popular is Zwift, which takes indoor cycling to the next level. The app has excellent graphics whisking you through a variety of 'worlds', from the streets of New York to the Mayan jungle.
5) Stay connected with friends
Now more than ever, it's important to stay connected with family and friends. FaceTiming, Zooming and Skyping have certainly kept us all sane during lockdown, helping us stay up-to-date with our nearest and dearest. But what about your cycling buddies or your local cycling club? Surely they're off-limits at the moment? Well, maybe not. Apps like Zwift come with group ride options where you can take on the course together, with the option to chat and keep each other motivated. The government are due to start relaxing lockdown rules to allow groups of up to two household to meet up outdoors, so a return to road cycling with friends - albeit in much smaller packs - in on the horizon.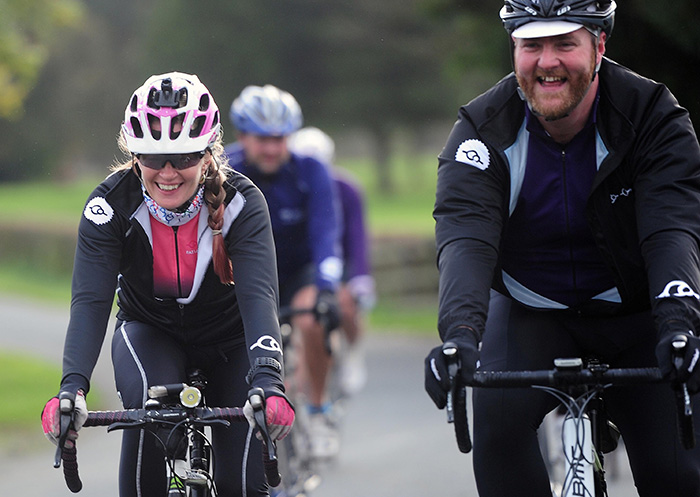 Hopefully we'll all be back to road cycling in the near future / Image: Fat Lad at the Back, Unsplash.
6) Take some time for yourself
Sure enough, staying on top of your fitness is important for your mental health, but taking some time to rest is too. This is an emotionally trying time for all sorts of reasons, so make sure you give yourself a moment to reflect. Consider working some meditation into your schedule. It will help you clear your mind, relax and gear up for the next challenge, whatever form it might take.