What is Public Liability insurance for cyclists?
At cycleGuard, we offer up to £5million optional Public Liability cover, which could help to cover legal costs that could be incurred in the event of a cycling related incident that leads to third-party property damage or injury to another person. For cyclists, Public Liability insurance can provide you with protection whether you're out on the road, hitting the trails or on your daily commute.
What if you were to run into a pedestrian on your bike? What if someone claims that you've damaged their vehicle with your bike? You could be liable for what can be, potentially, very expensive legal costs, if you need to defend yourself in court.
It's not just you, either, as our Public Liability cover will also cover family members, over 16 years of age and live with you should they cycle into trouble.
Please note that our Public Liability cover does not include claims or incidents in North America. See our policy wording for further details on exclusions.
What are some examples of Public Liability cycling claims?
When you're out on your bike, you might be all too aware of the threat posed to you by other road users, but what else should you be wary of? What are some examples of claims that have been brought against cyclists?
Cyclist and pedestrian incidents
Accidental injury to another person
Accidental damage to third party property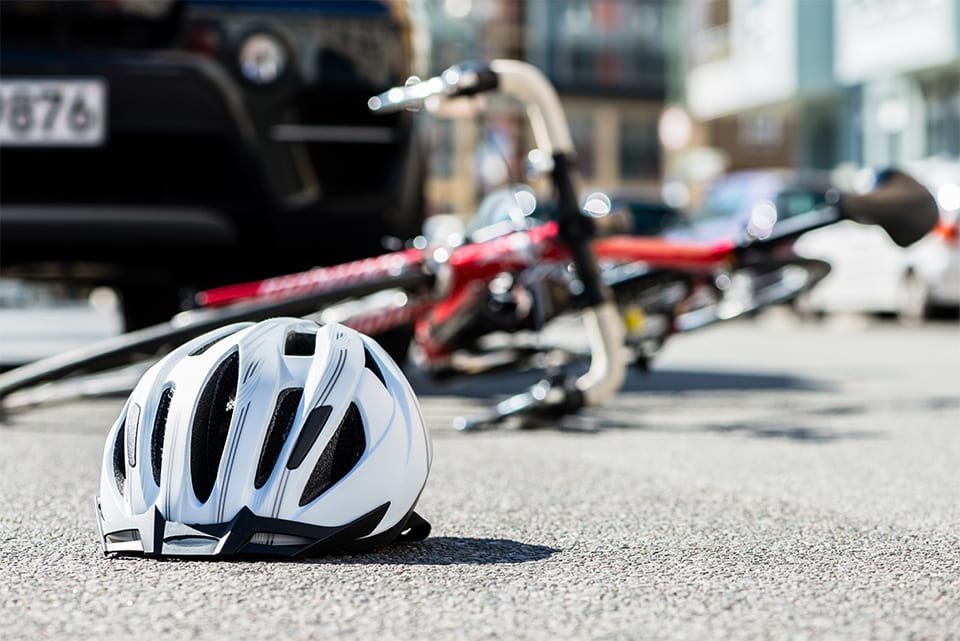 On average, there was an accident between a cyclist and a pedestrian every day in the UK in 2019.
Cyclist and pedestrian accidents
Aside from cars and buses, one of the biggest threats to cyclists out on the road are pedestrians. What if someone crosses the road without looking? What if someone is walking in a cycle lane? Whether it's a pedestrian or cyclist, themselves, is not paying attention, you'll need to be aware of potential accidents when you're out on your bike.
What happens if a cyclist hits a pedestrian?
So, what happens in the unfortunate event that you do have a collision with a pedestrian when you're on your bike?
One cyclist was recently ordered to pay £100,000 after knocking over a pedestrian who had stepped out into the road. The cyclist, Robert Hazeldean, struck a pedestrian who had stepped into the road whilst looking at her phone.
With optional Public Liability cover, you can keep yourself covered against expensive legal costs if cycling-related legal claims are made against you.
How many accidents between pedestrians and cyclists are there in the UK?
According to government statistics, there were over 400 instances of accidents between cyclists and pedestrians in 2019. That's a collision every single day, on average, in the UK.
In the same time period, one in three pedestrians were said to have been seriously injured after being hit by a bike. Can you afford to take the risk of riding and possibly getting involved in an accident without protection?

Views expressed in our articles do not necessarily reflect the views of cycleGuard.