What to do if your bike has been stolen
Here's what you should do if you've been the victim of bike theft
As more and more of us are getting out on our bikes, the number of thefts of bikes are reportedly on the rise. Opportunist thieves are always on the lookout for unsecure bikes, so if you've had your bike stolen or if you're not sure what to do if you ever were to become a victim of theft, then we'll walk you through what you should do if the worst happens.
File a stolen bike police report
According to the Office of National Statistics, around 40% of bike thefts have occurred even when the bike is locked by a chain, cable or D-Lock.
Theft of any kind is a serious matter, especially when it's valuable property that you need to get from A to B safely. If your bike has been stolen, you'll need to contact the police to make a report of theft.
Make a claim for bike theft on your insurance
With specialist cycle insurance, you can help take relieve some of the stress of having your bike stolen. Once you have filed a police report for your stolen bike, you should be able to make a claim on your bike insurance if you have any.
At cycleGuard, if you need to make a claim with us for the theft of your bike, then you can do so by getting in touch with us by either:
Visit our Make a Claim page if you'd like more information on how we can help you if your bike has been stolen.
Will insurance cover a stolen bike?
Having bike insurance in place can be sensible no matter how often you hop into the saddle. At cycleGuard, we can cover bikes worth up to £20,000 from theft that are securely locked when you're out and about. You can find our easy-to-read lock requirements here:
Report it to Kryptonite or OnGuard
If you've got a bike lock from either Kryptonite or OnGuard, then you can claim if your bike lock has been broken and your bicycle stolen. Both brands offer their own 'anti-theft protection' on specific makes of bike lock and if you're registered with the scheme, you could be covered. Be aware though that restrictions do apply, so check what you're registered for before making a claim.
It's important that you keep your bike locked safely when you do head out. Crime statistics show that between April 2017 and May 2018, 27% of bike theft victims hadn't considered locking their bike with a bike lock.
How to find a stolen bike
Stolen bike register
Online databases such as Bike Index or Bike Register can help you find your stolen bike. All you need to do is register your bike and details, then mark your bike frame with its serial number. Your bike's details are then stored, making it easier to track if it is stolen.
Check social media
The power of social media can often come good in situations like these. Cyclists are a close-knit community and those who may have previously been victims of bike theft can empathise. Get your bike's details, location, time and date out there on whatever social media platform you have to spread the word. Join cycling groups on Facebook or ask the good biking people on Twitter or Instagram if they can help you in your hour of need.
This lucky cyclist went viral on Facebook during lockdown when he was re-united with his bike. An employee of South Eastern Railways intervened to stop the cyclists' bike from being stolen when he saw someone removing the bike lock with bolt cutters and waited four hours afterwards to make sure the bike got back to the right hands.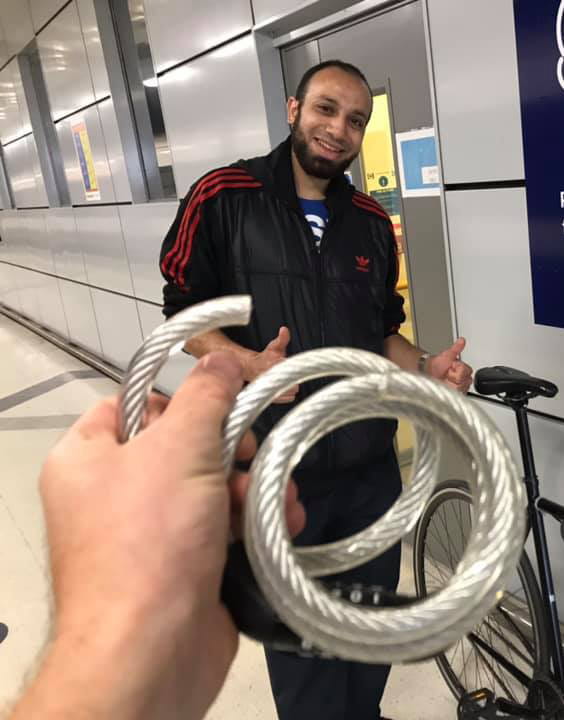 The kindness of a South Eastern Railways employee saved this cyclist / Facebook.
Alert your local bike shop
Another good place to sound the alarm is with local bike shops. The cycling community are always on the lookout for cyclists who have been victims of theft and bike shop owners will be able to keep their eyes peeled if a bike fitting your description is brought into their shop.
Include as much detail as you can about your bike. Where it was stolen, what time, what make and model and a serial number if you have one. It may even be worth printing out a poster of your bike to take to your local bike shops.

TAGS
Student
Sport
Road
Mountain
Leisure
Commuter
Electric