Winter bikes: Do you need one and what makes a good one?
Wintertime can be tough on your bike. You can beat the cold by getting your very own winter bike – but what makes a bike a winter wonder? Get our tips below.
When the temperature drops and the chill starts to bite, should you just pack your bike away and be done with it? Of course not! A bit of cold weather shouldn't be enough to stop you from getting onto the saddle. In fact, quite the opposite. When winter creeps around the corner, it might be worth having a specific winter bike to fly through the frost with.
What is a winter bike?
A winter bike doesn't necessarily mean that you have to fork out for an off-the-peg, all-weather machine, although as a cyclist we know it's hard to resist the temptation of adding to your collection. Your designated winter bike could be an old road or mountain bike that you've kept hold of out of a sense of loyalty after investing in a brand new, shiny racer.
If you do have a bike sat in the back of your shed which has fallen out of favour, then the winter months could be the perfect opportunity to give it a new lease of life. Of course, if you really do want to invest in some dedicated winter wheels, then there are a range of gravel bikes or adventure bikes that have become an increasingly popular choice for riders. These are a versatile breed of bike which are designed for a variety of different terrains but are still very much at home on the tarmac. Often fitted with wide tyres and disc brakes to give you greater control, these could be a suitable choice for when the weather gets a bit challenging if you are looking to invest in another bike.
Why would I need a winter bike?
The advantages of having a nominated winter bike stretch way beyond not having to plaster your most-cherished steed in the dirt and ice – or even worse, leaving it in the shed while you take the bus to work.
Firstly, if your go-to bike is a sleek, carbon-fibre framed racer then you might be in for a bumpy ride when you encounter the many potholes that suddenly appear during winter months. Especially as when it's been raining, these nuisances can become a hidden, yet serious hazard. Any old mountain bike, or even your new gravel addition, is likely to have significantly larger tyres which can ease the potential impact of a pesky pothole.
Also, the added grit and mud kicking up off the roads and onto your expensive, primary bike is obviously no good for anyone, and the constant cleaning after every ride can get tiresome. A ride with a heavier frame that's already rough and ready might just be the perfect cold weather alternative.
As Rod Ellingworth, performance manager for Team Sky puts it: "I would 100 per cent have a different, heavier, proper winter bike with thicker tyres." Just be aware that you aren't going to be setting any personal bests any time soon!
What are the risks of not having a winter bike?
Biking in the snow and ice does bring about its own risks and you'll want to take the appropriate pre-cautions for when you do head out. If you do opt to keep a spare bike, or if you've got a new machine on your wish-list, then with our insurance at cycleGuard we can help keep you protected. Our policies mean you can cover your bikes with our multi-bike policy, so should the worst happen we can make sure you're covered. Take a look here and see what we can offer you today!
What do you need on a winter bike?
So, if you're looking to add a winter bike to your collection – whether that's with a new, specialised bicycle or a set of spare wheels – what specifications is it going to need in order to make it a true all-weather runner?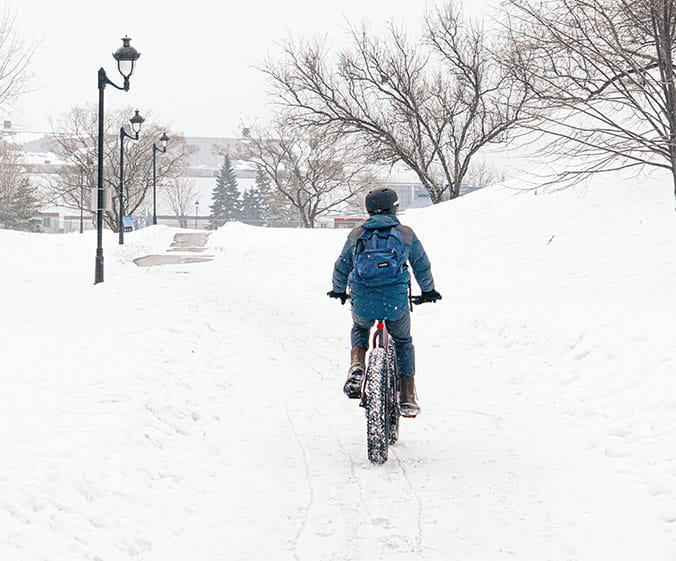 The best winter bikes need be robust and durable enough to cope with wintry conditions.
A heavier frame
For the toughest weather conditions, you're going to want to have the bike to match. Ideally, your winter bike will be made of stern stuff, so you're probably going to want the frame of your bike to made of the toughest material you can. Steel or aluminium frames will do just the job, so although they may be a lot heavier than your average carbon-fibre bike, they should be durable enough to withstand a few harsh winters. Luckily, steel and aluminium are usually the cheapest materials too!
A pair of wide tyres
Having wide tyres fitted to your bike should provide you with added comfort on your journey, as well as greater protection against potholes and bumps in the road. Your average mountain bike is likely to have relatively wide tyres fitted as standard, with the narrowest width somewhere around 26", so they should be more than up to the task.
If you aren't already a convert, it may also be worth contemplating going tubeless for the winter months. The main advantage with tubeless tyres is that they're much less likely to sustain a puncture compared to their clincher counterparts. The thought of having to change a flat tyre in the cold, wet weather might make tubeless tyres much more appealing to you but bear in mind that they are more difficult to fit than the clincher-style tyres.
Some mudguards
Some might say that popping mudguards onto your bike will spoil its aesthetic, but when winter comes you won't regret it. Mudguards are going to protect you and your clothing from lashes of mud and sleet.
A decent set of lights
One thing you shouldn't overlook when constructing your winter bike is a good set of lights. We all know about those long winter evenings and dismal, dark mornings, so one of the best ways to make yourself seen is by getting lights attached to your bike.
Loosely speaking, any front light over 200 lumens should be powerful enough to ensure that you can be seen on the roads, but it's never a bad idea to be cautious and go for more, especially if you're planning on taking your bike off the beat and track. Just be wary about dazzling other road users.
Rear lights tend to operate at a lower level of lumens; but remember, it's illegal to ride your bike at night without both rear and front lights fitted. If you're in the market or a set of lights, it might be worth taking a look at flashing rear lights. A Danish study found that a flashing tail light can make the rider "2.4x more noticeable than with no lights at all".
Luckily, with insurance from cycleGuard, the accessories you use to customize your own winter bike can be covered. Take a look at our policy features for further information, or get a quote from us today.

TAGS
Commuter
Student
Mountain
Road
Sport
Winter
Autumn