Why have Italy & Spain banned cycling? Could the UK be next?
Find out why cycling has been banned amid the coronavirus outbreak and what it could all mean for cyclists in the UK
What have Spain and Italy done to combat coronavirus?
As the country faces its 'most difficult crisis since the Second World War', the Italian government announced on 9th March, that all leisure cycling in the country would be banned. This has led to an almost complete crackdown on bike riding in the country, with the minor exceptions being rides for either 'work or health needs'.
This comes after several professional cycle races in Italy were struck off the calendar following the coronavirus outbreak – including the Strade Bianche and Milan-San Remo. This year's Giro d'Italia has also been postponed.
The following week, the Spanish government announced that cycling would also be prohibited in the country following a nationwide lockdown.
Figures have shown that Spain is the second-worst affected nation for coronavirus in Europe, after Italy. Reports from Spain have suggested that cyclists could be subject to a €3,000 fine if found out on their bikes.
Like Italy, Spain has also had its share of professional bike races cancelled, with the Volta a Catalunya succumbing to the lockdown. However, the tough stance taken by the Spanish government has been questioned by Astana rider Gorka Izagirre, who has sought clarity over how this ruling affects Spain's professional cyclists and cycling teams.
Why have Spain and Italy banned cycling?
Both Spain and Italy are some of the worst-affected nations by the covid-19 pandemic. The situation in Italy is particularly stark, as the number of deaths in the country recently surpassed those in China.
As a result, both governments have looked to ease the burden on their respective health services. Which is where the ban on cycling comes into play.
While solo rides may encourage social distancing and the benefits of exercise for your mental health are even described in the UK government's response to covid-19, just what has led to the decision to ban cycling?
Carlos Mascias, director of a private hospital in Madrid, urged Spaniards to: "Stay at home and put the bike aside".
In a message posted to the twitter account of the Vuelta a España, Mascias said: "Whatever possibility to minimise the impact on the resources of medical services that is not directed towards coronavirus is primordial."
Loosely speaking, the cycling bans are less to do with the risk of infection while out on the bike and more about combatting a potential number of cyclists injuring themselves and then needing hospital treatment.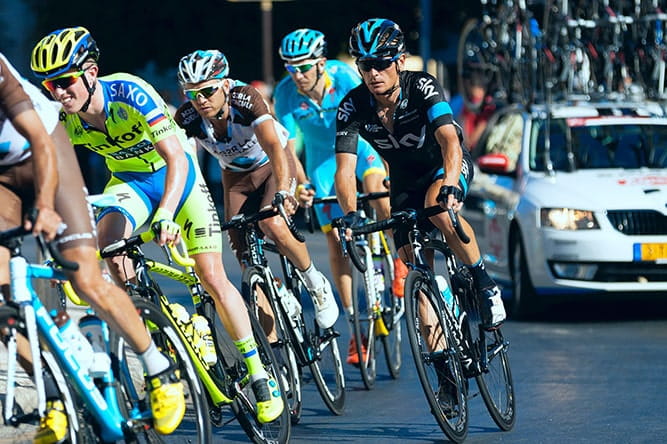 The 2020 Vuelta a España has been cancelled.
Could the UK ban cycling?
Currently, the British government have not instilled a similar ban on cycling, although the situation is being closely monitored.
People are being urged to stay indoors and avoid non-essential social interaction, although exercise is being recommended as a way to maintain positive mental wellbeing.
Public health academics and transport experts in the UK believe that the government should not follow in Spain and Italy's footsteps by imposing a ban on cycling.
In an open letter, academics have said that: "Walking and cycling, particularly in greenspace is good for mental as well as physical health," while adding that "Walking and cycling can be compatible with social distancing".
Over 4,000 of the UK's cyclists were either killed or seriously injured in 2018.
How can cyclists stay safe?
The UK government is advising that people maintain social distancing and to avoid non-essential travel and large gatherings.
Cyclists with underlying health conditions or those who are particularly vulnerable are being advised to stay indoors for at least 12 weeks.
You can keep up-to-date with government guidelines about what action to take surrounding the coronavirus outbreak and areas of large gatherings here.
You can keep up-to-date with the latest government advice on coronavirus and how to stay safe on the gov.uk website.
Article last updated: March 23rd, 2020.

TAGS
Road
Sport
Leisure
Health